Thiết bị đo áp suất SIEMENS SITRANS P500 7MF56.3 | Pressure meter SIEMENS | Đại lý phân phối SIEMENS Việt Nam
---
Siemens là hãng điện khí lớn nhất của CHLB Đức và châu Âu, các trụ sở quốc tế của Siemens đóng ở Berlinvà München. Công ty này có 6 lĩnh vực kinh doanh: tự động hóa & điều khiển, điện lực, vận tải, y tế, thông tin và liên lạc và chiếu sáng. Ngày 28 tháng 11 năm 2007, Siemens tổ chức lại thành 3 nhóm: công nghiệp, năng lượng, chăm sóc y tế với 15 phân ban. Trên khắp thế giới, Siemens có nhiều công ty con và sử dụng khoảng 480.000 nhân công ở 90 quốc gia và có doanh số toàn cầu đạt 72,488 tỷ Euro trong năm tài chính 2007

Công ty Non Nước chúng tôi chuyên cung cấp các loại Thiết bị SIEMENS của hãng SIEMENS. SIEMENS mang đến hàng loạt các giải pháp về đo lường, cảm biến và cảm biến SIEMENS có thể đáp ứng được rất nhiều ứng dụng của khách hàng. Vì thế SIEMENS được sử dụng rộng rãi trên thế giới.

---
Thiết bị đo áp suất SIEMENS SITRANS P500 7MF56.3 | Pressure meter SIEMENS | Đại lý phân phối SIEMENS Việt Nam
---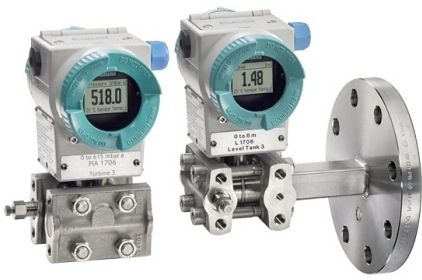 Mã sản phẩm:
7MF56.3
Tên sản phẩm:
SITRANS P500
The Highest measuring accuracy and possibility direct-connected use in process temperatures of up to 125 °C
Description
The SITRANS P500 has been developed to meet the highest expectations for measuring accuracy, ruggedness, and user-friendliness, and it merges seamlessly into the SITRANS P family. With the SITRANS P500, you can expect pressure measurement at the highest level.
It guarantees an accuracy of ≤ 0.03 % as well as outstanding values for the influence of static pressure and temperature on the measured result. In this way, it guarantees a total performance of ≤ 0.14 % up to a turndown of 10:1. Since this feature means that only one measuring cell can be used for different measuring ranges, inventory costs can be significantly reduced without the need for losses in the quality of the measured result. The high long-term stability of the sensor also reduces maintenance costs thanks to extended calibration intervals, and ensures that you can always rely on the measured results in the long term.
An innovated sensor assembly enables direct-connected use in process temperatures
of up to 125 °C (257 °F) even without a remote seal system. With an improved 3-pushbutton operator input concept for setting the device, the SITRANS P500's host of diagnostics options can be used conveniently without software.
Even curve displays and trend diagrams can be represented on the display for user-friendly process monitoring.

Benefits
Highest measuring accuracy

Extremely short step response

Outstanding values for the long-term stability

Optimized operator input: Can be set with a high degree of user-friendliness via a full-text-enabled, backlit display and 3 pushbuttons. The transmitter can also be configured and operated conveniently from the control system using the HART protocol

Easy configuration via HART with improved EDD* including a new quick start wizard

Extensive diagnostics such as 8 min/max pointers for process values showing also the time of the event

Process temperature up to 125 °C (257 °F) possible without remote seals

Backlit, graphics-enabled display

Space-savings thanks to process flanges of only 86 mm (3.4") in length
*EDD: Electronic device description

Detail
| | |
| --- | --- |
| Accuracy | ≤ 0,03 % (for a TurnDown up to 10) |
| Long-term stability | 0.05 % / 5 years |
| Measuring range | 0 - 1,25 mbar bis 0 - 1250 mbar |
---
Quý khách có thể liên hệ chúng tôi qua thông tin dưới:

Email: info.nonnuoc@gmail.com hoặc info@nonnuocviet.com.vn
Tel: +84 (0)911 66 8494