Cảm biến nhiệt độ SIEMENS SITRANS TH400 7NG3214/7NG3215 | Transmitter SIEMENS | Đại lý phân phối SIEMENS Việt Nam
---
Siemens là hãng điện khí lớn nhất của CHLB Đức và châu Âu, các trụ sở quốc tế của Siemens đóng ở Berlinvà München. Công ty này có 6 lĩnh vực kinh doanh: tự động hóa & điều khiển, điện lực, vận tải, y tế, thông tin và liên lạc và chiếu sáng. Ngày 28 tháng 11 năm 2007, Siemens tổ chức lại thành 3 nhóm: công nghiệp, năng lượng, chăm sóc y tế với 15 phân ban. Trên khắp thế giới, Siemens có nhiều công ty con và sử dụng khoảng 480.000 nhân công ở 90 quốc gia và có doanh số toàn cầu đạt 72,488 tỷ Euro trong năm tài chính 2007

Công ty Non Nước chúng tôi chuyên cung cấp các loại Thiết bị SIEMENS của hãng SIEMENS. SIEMENS mang đến hàng loạt các giải pháp về đo lường, cảm biến và cảm biến SIEMENS có thể đáp ứng được rất nhiều ứng dụng của khách hàng. Vì thế SIEMENS được sử dụng rộng rãi trên thế giới.

---
Cảm biến nhiệt độ SIEMENS SITRANS TH400 7NG3214/7NG3215 | Transmitter SIEMENS | Đại lý phân phối SIEMENS Việt Nam
---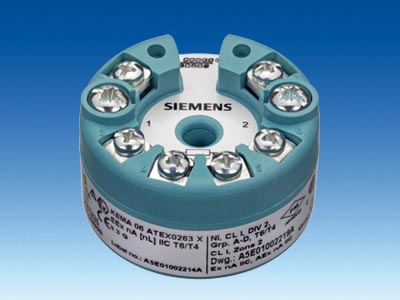 Mã sản phẩm:
7NG3214/7NG3215
Tên sản phẩm:
SITRANS TH400, fieldbus transmitters
The SITRANS TH400 temperature transmitter is a small field bus transmitter for mounting in the connection head of form B.
| | |
| --- | --- |
| Input | |
| Analog-to-digital conversion | |
| | < 50 ms |
| | 24-bit |
| Resistance thermometer | |
| Pt25 ... Pt1000 to IEC 60751/JIS C 1604 | |
| | -200 ... +850 °C (-328 ... +1562 °F) |
| Ni25 ... Ni1000 to DIN 43760 | |
| | -60 ... +250 °C (-76 ... +482 °F) |
| Cu10 ... Cu1000, α = 0.00427 | |
| | -50 ... +200 °C (-58 ... +392 °F) |
| Line resistance per sensor cable | Max. 50 Ω |
| Sensor current | Nominal 0.2 mA |
| Sensor fault detection | |
| | Yes |
| Sensor short-circuit detection | Yes, < 15 Ω |
| Resistance-based sensors | |
| Measuring range | 0 Ω ... 10 kΩ |
| Line resistance per sensor cable | Max. 50 Ω |
| Sensor current | Nominal 0.2 mA |
| Sensor fault detection | |
| | Yes |
| Sensor short-circuit detection | Yes, < 15 Ω |
| Thermocouple | |
| to IEC 584 | Measuring range |
| | 400 ... 1820 °C (752 ... 3308 °F) |
| | -100 ... +1000 °C (-148 ... +1832 °F) |
| | -100 ... +1000 °C (-148 ... +1832 °F) |
| | -100 ... +1200 °C (-148 ... +2192 °F) |
| | -180 ... +1300 °C (-292 ... +2372 °F) |
| | -50 ... +1760 °C (-58 ... +3200 °F) |
| | -50 ... +1760 °C (-58 ... +3200 °F) |
| | -200 ... +400 °C (-328 ... +752 °F) |
| to DIN 43710 | |
| | -200 ... +900 °C (-328 ... +1652 °F) |
| | -200 ... +600 °C (-328 ... +1112 °F) |
| to ASTM E988-90 | |
| | 0 ... 2300 °C (32 ... +4172 °F) |
| | 0 ... 2300 °C (32 ... +4172 °F) |
| External cold junction compensation | -40 ... +135 °C (-40 ... +275 °F) |
| Sensor fault detection | |
| | Yes |
| Sensor short-circuit detection | Yes, < 3 mV |
| Sensor current in the event of open-circuit monitoring | 4 μA |
| mV sensor - voltage input | |
| Measuring range | -800 ... +800 mV |
| Input resistance | 10 MΩ |
| Output | |
| Filter time (programmable) | 0 ... 60 s |
| Update time | < 400 ms |
Measuring accuracy

Accuracy is defined as the higher value of general values and basic values.

General values

Type of input

Absolute accuracy

Temperature coefficient

All

≤ ±0.05 % of measured value

≤ ±0.002 % of measured value / °C

Basic values

Type of input

Basic accuracy

Temperature coefficient

Pt100 and Pt1000

≤± 0.1 °C

≤± 0.002 °C / °C

Ni100

≤± 0.15 °C

≤± 0.002 °C / °C

Cu10

≤± 1.3 °C

≤± 0.02 °C / °C

Resistance-based sensors

≤± 0.05 °Ω

≤± 0.002 °Ω / °C

Voltage source

≤± 10 μV

≤± 0.2 % μV / °C

Thermocouple, type:
E, J, K, L, N, T, U

≤± 0.5 °C

≤± 0.01 °Ω / °C

Thermocouple, type:
B, R, S, W3, W5

≤± 1 °C

≤± 0.025 % °C / °C

Cold junction compensation

≤± 0.5 °C

Reference conditions

Warming-up time

30 s

Signal-to-noise ratio

Min. 60 dB

Calibration condition

20 ... 28 °C (68 ... 82 °F)
Conditions of use

Ambient conditions

Permissible ambient temperature

-40 ... +85 °C (-40 ... +185 °F)

Permissible storage temperature

-40 ... +85 °C (-40 ... +185 °F)

Relative humidity

≤ 98 %, with condensation

Electrically isolated

Input against output 1 kVeff

Input against output 500 Veff

Mechanical testing

Vibrations (DIN class B) to

IEC 60068-2-6 and IEC 60068-2-64
4 g/2 ... 100 Hz

Electromagnetic compatibility

EMC noise voltage influence

< ±0.1 % of span

Extended EMC noise immunity:
NAMUR NE 21, criterion A, Burst

< ±1 % of span

EMC 2004/108/EC Emission and Noise Immunity to

EN 61326

Construction

Material

Molded plastic

Weight

55 g (0.12 lb)

Dimensions

See Dimensional drawings

Cross-section of cables

Max. 2.5 mm2 (AWG 13)

Degree of protection

IP40

IP00

Auxiliary power supply

Power supply

Standard, Ex "nA", Ex "nL", NI

9.0 ... 32 V DC

9.0 ... 30 V DC

In FISCO/FNICO installations

9.0 ... 17.5 V DC

Power consumption

< 11 mA

Max. increase in power consumption in the event of a fault

< 7 mA
Certificates and approvals

Explosion protection ATEX

EC type test certificate

KEMA 06 ATEX 0264 X

"Intrinsic safety" type of protection

II 1 GD EEx ia IIC T4 ... T6
T65 °C ... T105 °C

II 2(1) GD EEx ib [ia] IIC T4 ... T6
T65 °C ... T105 °C

EC type test certificate

KEMA 06 ATEX 0263 X

Type of protection for "equipment is non-arcing"

II 3 G EEx nA [nL] IIC T4 ... T6
II 3 G EEx nL IIC T4 ... T6

Explosion protection: FM for USA

FM 3027985

IS/Cl I/Div 1/Groups ABCD T4, T5, T6, FISCO

IS/Cl I/ZN 0/AEx ia, IIC T4, T5, T6, FISCO

NI/Cl I/Div 2/Groups ABCD T4, T5, T6, FNICO

Explosion protection CSA for Canada

CSA 1861385

IS/Cl I/Div 1/Groups ABCD T4, T5, T6

Ex ia IIC T4/T5/T6
Ex ib [ia] IIC T4/T5/T6

Cl I/Div 2/Groups ABCD, T4, T5, T6

Ex nA IIC T4/T5/T6
Cl I/ZN 2/AEx nA II T4, T5, T6

Communication

Parameterization interface

Profile 3.0

126

FOUNDATION fieldbus connection

FF protocol

Basic or LAS

ITK 4.6

2 x analog and 1 x PID

Factory setting

only for SITRANS TH400 PA

Sensor

Pt100 (IEC)

Type of connection

3-wire circuit

Unit

°C

Failure mode

Last valid value

Filter time

0 s

PA address

126

PROFIBUS Ident No.

Manufacturer-specific

only for SITRANS TH400 FF

Sensor

Pt100 (IEC)

Type of connection

3-wire circuit

Unit

°C

Failure mode

Last valid value

Filter time

0 s

Node address

22
---
Quý khách có thể liên hệ chúng tôi qua thông tin dưới:

Email: info.nonnuoc@gmail.com hoặc info@nonnuocviet.com.vn
Tel: +84 (0)911 66 8494