Bộ báo mức dạng cánh xoay MONITOR - Rotary paddle bin level indicator MONITOR | Đại lý MONITOR

---
MONITOR là 1 nhà sản xuất cảm biến hàng đầu từ Mỹ. Trải qua hàng chục năm hoạt động trong lĩnh vực chế tạo cảm biến, các sản phẩm của MONITOR được sử dụng rộng rãi trên toàn thế giới.

Công ty Nhiệt Cơ Điện Non Nước chúng tôi chuyên cung cấp các loại cảm biến MONITOR của hãng Monitor Technologies LLC.

---
Thiết bị báo mức dạng cánh xoay MONITOR - Rotary paddle bin level indicator MONITOR | Đại lý MONITOR

Model KA and KAX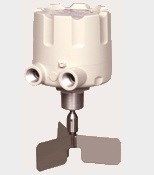 Point Level Sensor for Bins, Silos, Hoppers and Other Vessels Storing Bulk Solids
Twist On/Off Cover - No More Bolts!
Motor Shuts Off When Paddle is Impeded to Significantly Extend Motor Life and Reduce Wiring Access: 2 Conduit Entrances
Competitive Price Makes The Monitor Bin Level Indicator Your Best Value
Three Bearing Design With Sealed Bearings Last Longer
Built-In Slip Clutch Extends Life
Hazardous Location Approvals Available (Model KAX has ATEX/IECex haz loc approvals)
Standard KA /KAX Units Rated to +300°F (+149°C)
Hi-Temp Models Rated to +750°F (+399°C)
Unique Low Voltage DC Design Available
---
Quý khách có thể liên hệ chúng tôi qua thông tin dưới:

Email: info.nonnuoc@gmail.com hoặc info@nonnuocviet.com.vn

Tel: +84 (0)911 66 8494