Que dò mức kiểu rung BINMASTER - Vibrating rod BINMASTER | Đại lý BINMASTER

---
BINMASTER là 1 hãng sản xuất cảm biến có tiếng của Mĩ. Các sản phẩm của hãng được sử dụng tại rất nhiều nước trong đó có Việt Nam.

Công ty Non Nước chúng tôi chuyên cung cấp các loại thiết bị cảm biến BINMASTER của hãng BINMASTER.

---
Công tắc phát hiện mức kiểu rung BinMaster - Vibrating level switch/Point level sensor BinMaster | Đại lý BinMaster

---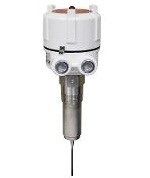 The BinMaster vibrating rod point level sensor – also called a vibrating level switch – is a reliable point level indicator used for high and low level indication or plugged chute detection. It can be used in light, fluffy powders and flakes with bulk densities as low as 1.25 lb./cu. ft. BinMaster vibrating rods feature a unique, sword-shaped probe that resists buildup and false alarms. Rigid and flexible extended vibrating rods are ideal for top-mounting, while remote electronic and high temperature models accommodate excessive vibration or heat. Special models detect sediment under water and a mini vibrating rod fits in tight spaces and small hoppers.
---
Quý khách có thể liên hệ chúng tôi qua thông tin dưới:

Email: info.nonnuoc@gmail.com hoặc info@nonnuocviet.com.vn

Tel: +84 (0)911 66 8494